The 2018 ACM-NE Conference, Trade Show  & Nor'Easter Awards Ceremony at Proctors was a wonderful event full of networking, knowledge sharing and meaningful connections. Thank you to everyone who made it out including our dedicated volunteer base of presenters who shared with us their knowledge and hands-on experience. We will post presentations soon. We also want to extend a special acknowledgement to all of our vendors who provided engaging ways to showcase their technology with our members and greater community:
Comrex – Platinum Sponsor
Cablecast Community Media by Tightrope Media Systems – Gold Sponsor
CASTUS – Gold Sponsor
TelVue – Gold Sponsor
Access AV
Barbizon Light of New England, Inc.
B&H Photo Video
Com Tech, Inc.
D2 Productions
ENCO Systems
Hunt's Photo and Video
Integrated Solutions Group
JVC Kenwood
Municipal Captioning, Inc.
Ross Video
Tape Services, Inc.
Unique Media Systems
Toner Cable Equipment, Inc.
We are grateful to have some of our conference attendees share their experiences with us, please keep reading to learn more about how the 2018 conference was a good experience and enjoy some pictures recapping the event…
Elizabeth Malone – Exec. Director, Northwest Access Television St. Albans, VT
ACM-NE Conferences are always invaluable to the NWATV staff. After months of dreaming up ideas and trying them out in the community, it's always refreshing to connect with colleagues who share the same dreams and ambitions to build community through media. New ideas are hatched and old alliances are strengthened.

Ryan Scutt, Educational and Studio Production Coordinator, Catamount Access Television
"I am grateful for the opportunity to have attended the ACM-NE conference this year. It was a great way to connect with other Community Media professionals and to learn more about what others are experiencing and the exciting things happening in various communities throughout the region."

Salley Gibney, GNAT-TV Producer
Thank you so much to the ACM-NE for awarding me the Rika Welsh Community Impact Award. I am very humbled by this Award. It has been an honor and a pleasure to be provided an opportunity to do what I love and to be a part of the GNAT-TV and ACM-NE community.

Steve Dunning, GNAT-TV Volunteer Producer "Mono"
Producing the television show "Mono" is a constant struggle made up of little victories and defeats. In the end, it's nice to be honored, to be called "winner" by the Alliance.
Additionally, we would like to send a special acknowledgement to all our ACM NOR'EASTER Award winners. Congratulations to all the many media center stations who won this year, you can read more about the winners online here.
It is also a special time to recognize our Special Leadership Award Winners too:
Brian Wilson Mentor Award — Matthew Belfiore from Haverhill Media
Chuck Sherwood Leadership Award — Karen Hayden from Methuen Community Television
Rika Welsh Community Impact Award — Salley Dantzler Gibney, Greater Northshire Access Television (GNAT-TV)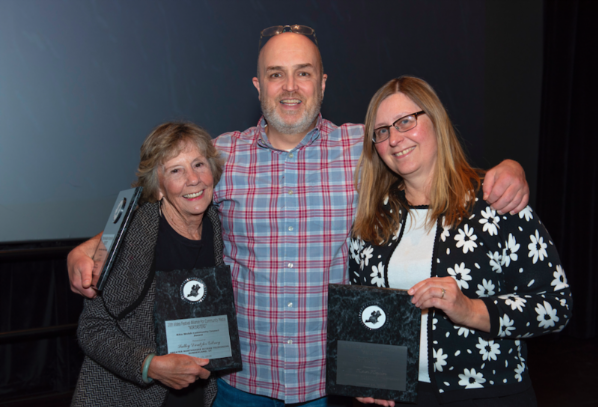 You can read more about the winners and the Leadership Awards online here!
---
Enjoy more of the pictures online here!