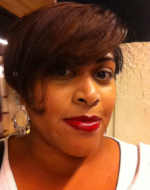 Rose M. Crichton, Associate Director, Partnerships & Marketing, BRIC
Rose M. Crichton is a specialist in integrated marketing & media strategy, concert and event management, community relations and development of creative solutions with a focus in data-driven, long-term strategic planning. With over 15 years of experience in radio promotions, music branding, artist relations, B2B marketing and PR she excels at project management, budget management and providing superior internal and external customer service.
As Associate Director of Partnerships & Marketing for BRIC, she forms relationships with various companies that are supporting, curating or creating Brooklyn media, arts & culture programming to acquire potential high quality productions for broadcast and digital platforms. She also manages the BRIC Media Share program. The program allows BRIC to provide staff development to not-for-profit companies, mainly working with their marketing departments to show them how to produce their own short form video content and incorporate it as part of their long term marketing strategy.