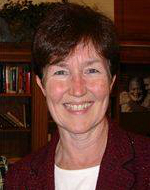 Maryann Murphy, MSW, CPO(R)
Your Personal Organizing Coach
There is a remarkable sense of peace and confidence that comes from being organized. Anyone can become and remain organized and experience that peace and confidence, but some of us need a little help to get started. That's where my years of experience come in.
Hi. I am Maryann Murphy, and I want to help you get more organized! I have over 25 years of experience in human services, with a specialty helping people change their problem behaviors and learn new skills.
I have also worked in business and government as an Office Manager, and have worked with architects and designers to create more efficient and beautiful workspaces.
But more importantly, many people have told me "you're the most organized person I know", and have been inspired and encouraged in working with me to get their own spaces and schedules more organized.
I take my education seriously and hold a Masters Degree in Social Work, along with training from the National Association of Professional Organizers (NAPO) and the National Study Group on Chronic Disorganization (now called ICD – the Institute for Challenging Disorganization). In fact, I am certified as a Specialist in Chronic Disorganization by ICD, and a Certified Professional Organizer (R).
I believe all this background makes me uniquely well-suited to help you learn the most effective strategies for organizing your home, office, & schedule, whether you have just a few things you want to get more organized, or if you are completely overwhelmed by your clutter and disorganization! I understand that it can sometimes be embarassing to let someone see your situation, but I understand, and I want to help! My work with you is completely confidential and private (unless you want to share the results with others).
I have been very involved in community organizations over the years, so I know how important it is to arrange your time to be able to include a variety of different activities:
At NAPO-New England I am a member of the Golden Circle, and am a trainer in both the Quantum Leap program and the New Organizer Workshop. I am also national co-chair of the Speaking for Fees Special Interest Group. I am the President-Elect and Treasurer of the New England chapter of the National Speakers Association. In Toastmasters International I have served as Area and Division Governor, Past President of both the Upper Cape Toastmasters and Marion Toastmasters clubs, and have earned the rank of Distinguished Toastmaster. I am a member of the Cape Cod Chamber of Commerce, and the Institute for Challenging Disorganization. I also served on the Mashpee Hoarding Task Force for 5 years, helping my local community come up with resources for people with hoarding challenges. I am also past President of Boston NOW (National Organization for Women), and past board member of the American Business Women's Association Cape Cod chapter.
I get involved in these activities because I love to help people, and I love getting things better organized to make them work more easily and more effectively.
Most importantly,
I can help you find more time in your day
and more space in your home and office.
---