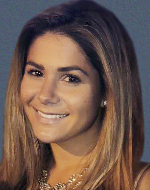 Amanda Ravens, Corporate Partnership Manager, Spaulding Rehabilitation Hospital
Amanda Ravens is the Corporate Partnership Manager at Spaulding Rehabilitation Hospital, located in Charlestown, Massachusetts. In her role, she matches the philanthropic interests of companies in and around the Boston area with the needs of the hospital. Additionally, she manages Spaulding's Race for Rehab Athletics Program, inclusive of athletes of all ages and physical abilities, who participate in races around the country, all the while raising funds for the hospital. Previously, Amanda managed fundraising events and worked in major gifts.
Amanda graduated cum laude from the Isenberg School of Management at the University of Massachusetts–Amherst and currently resides in Boston with her dog, Mogley.