Brendan Tenan was one of three people receiving a Paul Berg scholarship to go to the BeMore conference in July 2018.  The following comments are his take on that event:
I had a great experience attending the 2018 ACM National Conference in Baltimore. I learned a lot from the panel sessions I attended. Also of equal importance to me was gaining insight into how other stations both in the Northeast and across the country are responding to a constantly changing environment regarding available resources, maximizing visibility, and community outreach and networking.
A personal highlight of the conference was getting to participate in the Day on the Hill lobbying event. Getting the chance to meet with the staff of my Senators and Congressman to express the importance of community media for the people they've been elected to represent was both productive and personally rewarding. It was such a relief and a shot of encouragement to hear unanimous support from them!
I learned a lot and gained some exciting new ideas for our station in the panel sessions, particularly on community media's role to play as independent journalists and leveraging social media to our benefit. That said, I think I got the most value out of the opportunity to meet and network with other community media professionals, many of whom are part of ACM Northeast. It was such a pleasure getting to meet and learn from folks like Tony Riddle from BRIC/Brooklyn Free Speech, Roslyn Nieves and Madeline Johnson from Queens Public Television, and Matt Sullivan from LCM-TV. I plan to make use of their valuable opinions and experience going forward.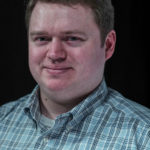 Brendan is the Programming Manager for Open Stage Media in Schenectady, where the October 11-12, 2018 Northeast conference Envision the Future will take place.