Alliance for Community Media – Northeast Region is a regional affiliate of the national Alliance for Community Media, which "represents over 3,000 Public, Educational and Governmental (PEG) access organizations and community media center throughout the country." If you or your access center is a dues-paying member of ACM, you get reduced fees (sometimes to zero) on these upcoming events:
ACM webinar: A Legal and Technical Update on Closed Captioning for PEG Channels
Wednesday, February 28, 2018
12:00 pm Pacific Time / 3:00 pm Eastern Time
Moderator:
Donna Keating, Media Services Manager, Montgomery County Government
Speakers:
Mike Wassenaar, President & CEO, Alliance for Community Media
& someone else To Be Determined.
At this link, you'll see where to register for this event and (when they are ready) other topics for 2018 ACM webinars.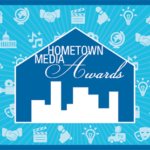 Hometown Media Awards competition – Submit your program—great or small, televised or web-streamed—to be judged together with others in a focused category.  Submission deadline:  March 15, 2018. There are 36 standard categories (e.g., Children's Programs, Community Event) and 4 varieties of Overall Excellence.  Each category is subdivided by who produced the submission—an access center professional, an independent, or a student.  There are fees and rules.  What do you get for all this?  Maybe a really nice plaque, a moment in the spotlight and something to publicize for your organization.
Annual Conference, with Trade Show and Hometown Media Awards Gala
   July 11-13, 2018 (Wednesday-Friday)
   Hilton Baltimore— Back on the East Coast!
Registration will open again in April.  Early Bird, one-day and student rates are listed now here.  There will be scholarships available for ACM members—stay tuned for more!
Remember, if your organization is new to the Alliance or has not renewed membership in the past three years, you can (re)join at a discount until March 31 this year.  Talk to your state chapter or find a copy of this special offer here.