ACM-NE is planning a full slate of Workshops and Roundtable discussions beginning on Thursday with Product Informational Presentations by vendors and several discussion sessions. Friday will feature workshops that are timely and relevant to our attendees. Check back here as more are added.
Here's the line-up so far:
---
MakerSpace & Youth Film Screening Room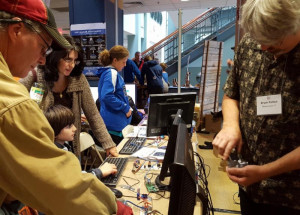 What's in a MakerSpace? Pretty much anything, we are told. In this case, on both Thursday and Friday, you can take a break from the major events and drop in to check it out! See below for what is in store for this MakerSpace room:
Sample artifacts from a Maker Faire held last month:  a nixie clock, a small 512-LED animated cube, a 4-foot Jacob's Ladder and various electronic projects–all courtesy of MakerSpaceCT.
A stop motion animation table, some e-textiles, and other items from YOUmedia, Hartford Public Library.
A continuous video loop of entries to the Reel Youth Hartford Film Festival.
Reel Youth Hartford Film Festival Screening Room
Additionally in this room will be a movie screening area where films produced by Reel Youth Hartford Film Festival will be looping! Come drop in, sit down, enjoy some popcorn and watch some locally produced films by Hartford youth!
And why is all this at our Trade Show and Conference?
Bryan Patton of MakerSpaceCT will participate in the workshop
DIY, MakerSpaces & Community Media: Where is the intersection & how to collaborate at 10:45am on Friday in the Technology & New Media track.
Representatives from YOUmedia and Reel Youth Hartford Film Festival will join the discussion about Connecting Community through Youth Engagement at 2:oopm (also Friday) in the Best Practices track. It's another way we show and tell.
---
Thursday, November 19 10:30am – Noon
Working with your Local or Regional Emergency Planning
Making a connection between your Community Media Center and Emergency Management official(s) is both critical and helpful for the community at large. When something "hits the fan", you don't want to be making the partnership at that point — it is about creating and sustaining that relationship early on so when "that time" comes you are part of the checklist. Did you know that in MA there is a list of local emergency management officials readily available, and there are numerous opportunities to work together? This session will review some of Emergency Management's day-to-day efforts/concerns and also examine the results of a recent survey of several Emergency Management officials on how they believe community media can be utilized to its fullest potential.
Presenter: Jim Palmer, Peabody Access Telecommunications.
Thursday, November 19   1:30pm-3:00 pm
Transitioning Management: Moving and Combining the ED channel within your Organization
Eric Dresser of Hingham Media leads a session on working effectively with the E portion of your PEG for your community. What works? What does not?
Presenter: Eric Dresser, Hingham Community Access & Media Executive Director
Thursday, November 19   4:00pm-5:30 pm
Advertising vs. Sponsorship: A Discussion with the National Federation of Community Broadcasters
Raising more revenue is a key component to surviving and growing our organizations. Ernesto Aguilar, Board Member, The National Federation of Community Broadcasters shares information about how non-profits should approach this potentially sticky topic.
Presenter: Ernesto Aguilar, Board Member, The National Federation of Community Broadcasters
---
FRIDAY, NOVEMBER 20   9:00am-10:25 am
The 5 Legal Hot Spots Organizations Need to Monitor in Human Resources
A "must attend" workshop for anyone who manages personnel and those responsible for HR oversight, policy setting and implementation for their organization. This session will cover such topics as; the 5 top reasons employers are being sued, HR safeguards to protect organizations, practices and policies all organizations must have and more.
Moderator: Debra Rogers, CEO, Falmouth Community Television
Panelists: Lauren Brenner, President, HR Services Division HCR Group/Telamon, Insurance & Financial Network
What's up with the EPG?
The Electronic Program Guide – we all want to be on it. Hear from presenters as they talk the tech stuff, how to submit and what companies are looking for. You will listen to examples from around the country about their experiences.
Panelists: Mike Wassenaar, President, Alliance for Community Media
Tony Campos, Executive Director, Central Vermont Television
Stretching Your Dollar, Your Mission & Not Your People: Thinking Outside the Box through Collaborations, Social Media & Creative Outreach Ideas
Status quo methods of digital outreach often result in status quo audience growth results. Engaging a new and different audience requires innovative tactics, taking chances, and having some fun. From upgrading your studio, to cross promoting content through collaborations, to using social media posting and sharing options, organizations are consistently extending their reach. Many organizations have already begun enacting effective methods of creative outreach, especially in an effort to reach younger generations. In this workshop you will get a few great examples of those who have found success in reaching a diverse audience in our modern digital world.
Moderator:  Erica Jones of Somerville Community Access Television
Panelists: Cor Trowbridge and Roland Boyden of Brattleboro Community Television
Robert Dokes of BevCam
Michelle Alimoradi, Tightrope Media Systems
DIY Video Archiving with the Internet Archive
How can media makers and access centers create a "Do it Yourself" video archive? This workshop will introduce the Internet Archive and the Community Media Archive as an example archive that's grown to 45,000 videos contributed from 54 access centers and media makers from 17 state around the country. Learn what you need to know to contribute digital video files to the Community Media Archive and discover some "best practices" for managing data about your videos once your collection is established. Case studies will be presented by Amherst Media and DoubleACS so that attendees can hear from their ACM-NE peers about how these centers built their archives and learn how archiving affects your both your policies and practices. You'll emerge from this session with an "I can do that!" attitude towards archiving your community's or organization's cultural history.
Panelists: John Hauser, Access Humboldt
Kayla Creamer, Amherst Media
James Jones, Attleboro Access Cable System
---
Friday, November 20 from 10:35am – 12:00pm
License Renewals, Transfers and Other Regulatory Opportunities for Your PEGs
The panel will explain the requirements and tasks of a good license renewal process and other important cable regulatory proceedings, including license transfer law and process, state governance frameworks, license compliance and needs ascertainment, all of which impact most access centers. The expert panelists will also provide updates on new FCC rules and orders on cable license renewals and initial licensing, including new FCC rules requiring proportional allocation of incumbent licensee and Verizon license obligations; new FCC rule makings on Internet Protocol video streaming that might exempt cable Internet platforms from cable franchise fees and cable regulation; and updates on new bills that impact other cable matters of interest to PEG centers. Alliance for Community Media President Michael Wassenaar, Attorneys Bill August and James Horwood and prominent consultant Sue Buske will outline strategies and tasks for effective renewals, including ascertainment of PEG Access needs, budgets, supplemental revenue alternatives, new generation fiber and IP I-Net options, the status of High Definition PEG delivery in license renewals, interconnection of PEG channels to Verizon and competitive providers; and discussion of and updates on many important cable issues.
Panelists: Bill August, Esq., Epstein & August LLP
Jim Horwood, Esq., Peiegel & McDairmid
Sue Buske, President of the Buske Group
Mike Wassenaar, President, Alliance for Community Media
DIY, Maker Spaces & Community Media: Where is the intersection & how to collaborate?
Community media centers and maker spaces have tremendous fundamental philosophical overlap. They are public spaces that empower and enable the creative, functional and critical expressions of the community and individuals within it. Creative community spaces have been emerging rapidly across the country. Public access television stations are facing tremendous survival challenges. Volunteerism and charity among youth is enormous. Technological resources are more advanced and accessible than ever before. Our ideas of geography are being questioned and changed by a networked world. Join members of community media, maker, and arts organizations in discussing who we are, what models we use and the opportunities we have to support one another in shared resources, vision, and practices.
Moderator: Steven Brewer, & President of Amherst Media's Board of Directors, UMASS Amherst
Panelists: Devra Sisitsky, Co-Direcor & Bryan Patton, Co-Director, MakerSpaceCT
Christine Olson, Amherst Media
Chris Anderson, AS220, Media Arts Manager

Low-Power FM PEG Panel & Networking Session
During the last, and likely final, FCC window for LPFM licenses in 2014, dozens and dozens of PEG centers across the U.S. were granted radio building permits, including a bunch of us here in the northeast. This is our first chance to gather regionally and connect with colleagues from our region about how the station building is going, share strategies on community building, tech tips, fundraising and more. Come engage with a panel of community media staff who are building LPFM stations at their PEG centers and network with other station builders!
Moderator: Llu Mulvaney-Stanak, Vermont Community Access Media, Burlington, VT
Panelists: Mike Putnam, NBCTV-TV/WMCB-LP
Peter Fascino, Franklin TV/WFPR-LP
John Murphy, Human Arts Media
Keeping the Main Thing the Main Thing
Seminar on how leadership style and focus on mission, vision and values is critical for inspiring an organization in making a difference.
Presenter: Robb Zarges, SCATV Interim ED and Organizational Consultant
---
Friday, November 20 from 2:00pm – 3:25pm
The Non-Profit Narrative: How Telling Stories Can Make a Big Impact
The Non-Profit Narrative is designed to help non-profits apply storytelling principles to their day-to-day operations and communications for maximum impact. Storytelling can be a powerful tool to inspire and encourage action. To celebrate their 90th anniversary, The Hartford Foundation for Public Giving and WNPR collaborated on a community-wide storytelling project called "Words to Give By," (http://wordstogiveby.org) to shine a light on everyday generosity. Hear more about the impact of this project and learn ways to work on similar projects at your media center.
Moderator: Erica Jones, Somerville Community Access Television
Panelists: Nancy Benben, Hartford Foundation for Public Giving
Nancy Bauer, WNPR, Connecticut Public Broadcasting.
Building out a Production Vehicle
Thinking of purchasing and building out a mobile production vehicle?
Learn the ins and outs from two Executive Directors who built out vehicles over the last year,  as well as two production vehicle designers/outfitters:
Moderator Presenter: Debra Rogers, CEO, Falmouth Community Television
Panelists: Russ Hannagan, Executive Dir. East Bridgewater Community TV
Peter Bergstrom, Comms Mobile Solution
Robert Haigh, Access AV
Connecting Community through Youth Engagement
In this workshop, panelists will explore ways to engage local youth through media education, production, and advocacy. What are organizations doing to engage youth in their neighborhoods to learn about their local community and develop projects on community issues they wanted to see positively change in their neighborhood.
Moderator: Laura Deustche, PhillyCam
Panelists: Tricia George, Director of  YOUmedia and Teen Services for Hartford Public Library
Jacob Aparicio, Reel Youth Hartford Film Festival

Community News & Journalism Discussion
Are you looking to launch your own newsroom at your community media center? Maybe you have already done so but are interested in learning how others are doing reporting, production and distribution? This panel will give a glimpse of several different community-based news efforts and will end with a discussion about different models and how to jump-start a hyperlocal news effort at your center.
Moderator: Kim Miot, News Director, Plymouth Community Access Television
Panelists: Sheila Navarro, Senior News Producer "The Local Live" Larchmont Mamaroneck Community Television
Ian Bauer, News Director, Paradise City News
Heather Aveson, SCATV's Somerville Neighborhood News.
---
Friday, November 20 from 3:35pm – 5:00pm
Understanding the Funding Ecosystem: What you should know before you start fundraising & applying for grants
This workshop reviews basic information that non-profits need as they begin to research and apply for grants. The session will provide an overview of arts funding sources, frequently used terms in fundraising, what happens once your application is submitted, and processes to follow and understand from the initial inquiry through receipt of a grant. The goal of this session is to prepare artists to better navigate the range of funding resources available in the field.
Presenter: Fundraising "guru" Ellen Gugel, MBA, GPC, Principal at Grants & more.
Innovative Tips, Designs & Tools For Your Organization, Members & Yourself!
What have you already got that you don't even know you have? What should you look into adding to your arsenal? This is an open-discussion session where you will learn clever new tools for creating high quality graphic design within minutes, more efficient email management and simple social media automation tools! Please come prepared to share your own tools and resources with the group!
Panelists: Erica Jones, Somerville Community Access Television
Lori Belché, Somerset Access TV
Peter Gargaro, Billerica Access Television
John Hauser, Access Humboldt/Internet Archive
Introduction to Mobile Storytelling: Using a Mobile Device for Shooting Engaging Videos for Web & TV
You already have all the gear you need to create your own video or documentary in your pocket! In this hands-on workshop, you will learn the foundations of real-world storytelling and how to use your smartphone device to craft an insightful film using minimal gear to gain maximum access. At the conclusion of this workshop, you will have created a peer-reviewed video ready for sharing online or on TV and take away some hand tips for incorporating into your own curriculum!
Presenter: Jonathan Barbato, Arlington Community Media, Inc.
Open Dialogue: Ask a Lawyer/Consultant about your PEG Media Concerns
An open forum where you can ask any PEG Access or cable-related legal or governance question, or just listen in on the answers and group discussion. Community media operations face a host of significant legal issues, including but not limited to franchising-related issues, proper 501c3 governance, nonprofit law, municipal law and accounting issues; copyright, campaign speech and lobbying content, controversial content, collaboration and partnerships, liability insurance and political and policy matters. Bring your questions to this workshop and experts will respond diligently to your questions.
Panelists: James Horwood, Esq. Spiegel & McDiarmid
Bill August, Esq., Epstein & August, LLP
Sue Buske, President, The Buske Group
---
---